Storytelling is by far one of the most powerful tools a brand has. Storytelling is what builds the relationship between a business and its audience. By using stories to humanize your brand, you build trust in your organization and sell solutions to a problem that will be more appealing to your audience.
Understand the Content Marketing (Sales) Funnel
The sales funnel is essentially a broad-based term that describes the buyer's decision-making journey, with the three key phases being awareness, evaluation, and purchase. Anyone involved in sales and marketing needs to pay close attention to this process in order to gain a better understanding of what makes buyers move through the funnel.
To some extent, content marketing is considered outreach, which means it's something that sits at the "top" of the sales funnel. To an outsider, it may seem as though this aspect of digital marketing is "far" away from the actual money-making (sales) part of the funnel.
This article via Single Grain suggests that, with content marketing, there is a fourth stage of the sales funnel that comes after the conversion "delight," which essentially translates to establishing brand loyalty. Thus, content strategists should always be thinking about four critical stages of the funnel:
The "top" of the funnel is where brand awareness and lead generation happens. It's where you have the opportunity to cast a net over the broadest possible customer base and not only build your audience, but also engage with them to understand more about your entire strategy. But a great content strategist or manager will understand how to engage customers through every part of the funnel and ideally keep them cycling through the funnel.
View Your Content as Data
A content strategy is not about the number of blogs written per month, how much time should be spent doing Facebook Live, or whether or not a company should be writing a whitepaper. It absolutely is about quality, but all of these things are not exactly what strategy is about – they are components, but they aren't really what will guide your strategic approach.
A great content marketing strategy can engage audiences at every turn, and in order to do this, a good strategist needs to know how their content is working. When you know exactly how to spin your content so that it's effective in one phase, they then you can use that information as you move into the next phase in the funnel.
Your strategy will be guided by analytics. The job of the strategist is to meticulously monitor, track, watch and report on the numbers in order to continuously refine and adjust towards better conversions. You will need to track where your customers are "coming from," and where they are "going." In other words, you need to be continually assessing traffic patterns.
Continually testing what you're doing is how you'll get a solid idea about your audience's preferences, interests, and purchasing behavior. You need to know how well material is performing in order to make it to the next step of the process.
#2 Use Metrics to Evaluate Content
Once you've created your content, you should be using metrics to evaluate its performance. If you're putting out content without paying attention to your audience's reaction, you won't know whether it's effective in achieving your content and marketing goals — attracting more traffic to your website, having more people share your content on social media, and so on.
You may be using some metrics already – but using only some of them is doing only part of the job. You'll need to take a look at your content and website metrics as a whole to understand how your leads are finding your website and how your content performs.
#3 Reuse and Recycle Content
Reusing and recycling content is actually a great way to save time and resources while still seeing results. When you reuse content that has performed well before, it's likely to continue to perform well with a refresh of information. .
#5 Experiment with Content Types
Effective content marketing finds what specifically works for your brand and audience. Experimenting with content types and formats can help you figure out what types of media your audience finds most informative and engaging. Here are some content types to try:
Articles/Blog Posts: Articles and blog posts can be posted on your website, blog, and social media profiles.
Emails/Newsletters: Emails and newsletters are sent out directly to your subscribers. This gives you an easy and unique opportunity to speak directly to your leads and customers. Use it wisely.
Images/Photographs/Illustrations: Images are a crucial component of any content piece and can also be standalone offerings.
Infographics/Graphs/Presentations: Infographics and graphs are an ideal way to explain processes or statistics. Presentations can be used to establish you as a thought leader in your industry.
Videos/Animations: Videos and animations can be used across your website, blog, social media profiles, and YouTube channel.
Case Studies/White Papers: Case studies and white papers support your claims with data and establish trust in your business and brand.
eBooks: eBooks can be offered as a special but free content download. This gives you an opportunity to share more in-depth information with your leads and capture their information in exchange.
Podcasts: Podcasts are HUGE these days. You can get in on the action and provide valuable information about your industry or expertise.
Webinars/Courses: Webinars and courses help you educate your audience.
Interviews/Q&As: Interviews and Q&As help you introduce industry professionals to your audience or provide more information about your brand.
Be true to yourself
As content marketers, we're tasked with telling stories meant to sell products and services. There's almost always a commodity involved, and with it, and a philosophy behind selling that commodity. Sometimes, that philosophy may not match yours.
"Something we all should learn, if we haven't already, is the importance of understanding how the company or client makes money," says David Thomas, creator and host of The Cognitive Bias Podcast. "What is the business model, really? And are you cool with that?"
Understanding the company or client's business model results in two positive outcomes, Thomas says. One, it lets you understand what truly represents value for your company. If that's something you can get on board with, you can do a better job of adding to that value.
There you have it. Ten things I should've learned after 10 Content Marketing World conferences. I am sure there are 10 more. Maybe you know of one or two? If so, reach out and tell me what they are. I would love to learn more.
Tom Tennant is a senior content strategist at Falls & Co. He began his career as a news reporter and trade press editor. Tom shifted to media relations, working for one of the largest financial services companies in the U.S. – and then shifted again, spending more than a decade as a digital marketing team lead and content strategist for a leading enterprise information management software company.
Sources:
https://digitalmarketinginstitute.com/blog/5-essential-tips-for-a-successful-content-marketing-strategy
https://blog.hivestrategy.com/10-powerful-tips-for-effective-content-marketing
https://fallsandco.com/news-and-insights/10-content-marketing-world-tips
Content marketing tips
Your blog posts don't always have to revolve around your products, but they must be in some way connected. Your initial goal here is to get attention. In time, that attention will gravitate to your products and services.
Content Marketing Tips for Brands in 2022
As a content marketer, do you ask yourself, what am I going to do this year that's different and better than last year? How am I going to provide value to my audience? How am I going to transform the way they interact with my brand?
Aside from the quantitative results we uncovered in our Content Matters 2022 Report around how content marketers are addressing these questions, we'd also like to highlight some more qualitative trends and share some content marketing tips to help you stay ahead.
In 2022, content marketers plan to produce immersive and interactive online experiences that will impress, entertain, and delight their audience. Their content strategy will be geared toward customers' values and shaped by first-party data. By taking advantage of advancing technology, marketers will increase engagement and reach their marketing goals.
Step into the audience's shoes
In 2022, marketers will focus on personalized user experiences. Two common themes that consumers expect from their brands are authenticity and inclusion. Customers seek sincerity from brands, while brands seek deeper and more well-rounded relationships with their customers. This sincerity-seeking has been coined the " Ted Lasso " effect.
If you want happy customers, you should be thinking about how you can show customers you care about them even when you're not selling to them. Fostering genuine curiosity about your target consumers will help you develop a brand strategy that speaks to your audience.
Make it diverse and inclusive
Customers want content that is diverse and inclusive. In a survey conducted by Top Design Firms, they discovered that only 29% of non-white people feel they are accurately represented in ads, as opposed to 40% of white people. Moreover, the frequency of representation is also significantly lower for non-white people.
Making sure a customer can see themselves as a loyal member of your brand can help increase conversions. Seventy-three percent of people ages 18-34 rated themselves as somewhat likely to make an immediate purchase after seeing a diverse ad. And the majority of those surveyed (67%) said they would be at least somewhat likely to make a second purchase from a brand that commits to diversity and inclusion.
The online dating application Bumble does a great job of creating diversity in their ads. By highlighting diverse members of the New York community who use or have used Bumble in the past, Bumble speaks directly to their broad audience.
Customers also value companies that use their power and influence as part of the corporate world to do their part in improving society. Marketers recognize the importance of corporate social responsibility and plan to integrate it into their marketing strategy in 2022.
Digital marketing and advertisements account for roughly .08% of total greenhouse emissions . One of the ways marketers can make their efforts more sustainable is by working with a company like Good-Loop , whose mission is to make ad tech more ethical. For every ad a customer engages with, the advertiser makes a free donation. Good-Loop also created a "Green Ad Tag" to measure and track the carbon costs of digital ads.

Develop content for voice search
Think with Google shared that 27% of the global population uses voice search on mobile. As voice search becomes more popular, your content should be optimized for how people speak. This means writing with natural language and rich snippets that pose content as a question and use colloquial terms.
Optimizing for voice search can help improve your SEO and increase your audience engagement. In 2022, marketers should consistently maintain updates to information on their Google business listings and e-commerce stores. This will allow AI-powered devices to accurately find and relay answers to location-based voice search queries.
How Resharing Your Content Impacts SEO
SEO strategists agree that search engine web crawlers often prefer fresh, changing content. However, your search rankings will also remain strong if your content is frequently reshared. In addition, reshared evergreen content will be viewed over and over, unlike content that will only be relevant for a short time. It's often both easier and more effective to choose this type of content.
Media Evolution
Remember MySpace? If you're in your 20s, the answer will probably be no. New channels of media are constantly in development, creating audiences that are both younger and older than the previous ones. Folks all over the world are being connected to the internet for the first time. There will always be new people to see your content, and if it's evergreen and withstands the test of time, it will resound with new viewers year after year.
Social Evolution
As we all know, history repeats itself. Evergreen content is crafted to endure the changing whims of trends and society. Once one fad fizzles out and the next one replaces it, your content will still be valid and applicable. It's vital to create greater social engagement and always have something valid to say. Resharing content can help you achieve your goals.
Networking Evolution
Just as the world is constantly changing, so are the companies and individuals with whom you connect. Sites all over the internet will link back to your content, and the web of places that funnel traffic to that site is always expanding. When visitors finally end up reading your content, it should still be applicable. The internet is a circle, not a line, so resharing does — and always will — be a factor. Your content should be ready for it.
15 B2B content marketing tips to elevate your inbound strategy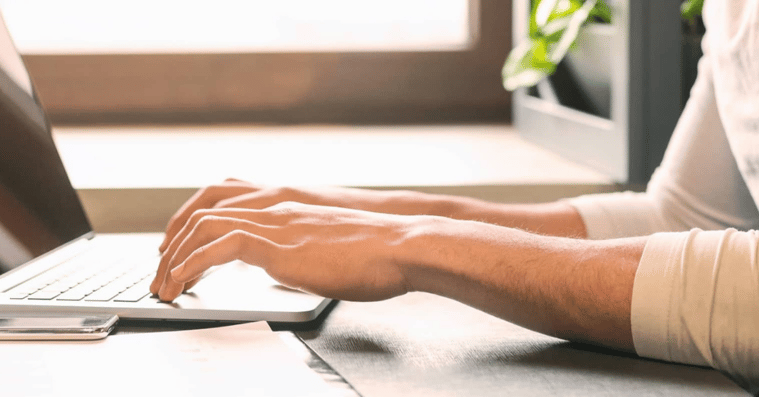 1. Define your ideal buyer persona
2. Set goals
Use the SMART framework to develop goals that are specific, measurable, achievable, relevant, and timely. For example, your goal could be to generate 30 new leads over the next month or increase demo sign-ups by 10% over the next quarter.
3. Organise your content into topic clusters
In the topic cluster model, you create a pillar page that covers a broad topic. The Complete Guide to B2B Website Design, for instance. Then, you create smaller pieces of content, such as blogs, that link to the umbrella topic. For example, How to Design a Product Page or The Best 10 B2B Websites in 2022.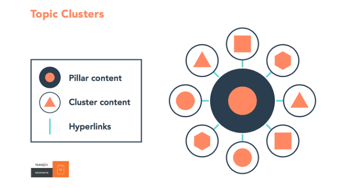 4. Set a content calendar
All too often, businesses create content on an ad hoc basis, with peaks and troughs of activity. You've probably seen it yourself. Company X might publish four articles one month and then nothing for the next three. The problem is, an inconsistent publishing schedule can negatively affect SEO.
5. Create content for every stage of the buyer's journey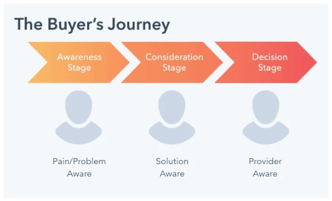 The buyer is aware of a problem or challenge and is looking to define it. At this stage, you should focus on educational content that addresses common problems and entices prospects to learn more. Think blog posts, eBooks, or educational videos.
At the decision stage, buyers are looking for the solution provider that best meets their needs. The content you produce at this stage should showcase the unique benefits of your solution and how those benefits can help buyers with their biggest pain points. Free product demos or consultations are effective here.
6. Write for the customer
Many businesses fall into the trap of talking exclusively about themselves in their content. It's important to highlight the USP of your products or services and guide people towards your solutions. But ultimately, content marketing is about the customer.
Take your ego out of the equation. Think about what matters to your buyers and create content that addresses those concerns. Remember, good content educates prospects and helps them find solutions to their business problems. It's not a soapbox to tell the world why you're better than your competitors.
7. Optimise for SEO
Content only delivers value if it's discoverable. And while it's important to write for your ideal buyer and help them along their path to purchase, it's equally important to optimise your content for search.
B2B search engine optimisation (SEO) is all about increasing online visibility and attracting relevant, high-quality traffic with everything you publish. This begins with identifying the keywords you want to rank for in each piece and weaving them naturally into your content. Other crucial aspects of SEO you must consider are:
8. Keep your tone of voice consistent
A consistent tone of voice raises brand awareness, enhances credibility, and inspires trust. But maintaining consistency can be a challenge. Especially if more than one person is responsible for producing content in your business.
You can avoid this problem by creating tone of voice guidelines for your business. This ensures that no matter which channels your customers use, every piece of content they interact with sounds like it was produced by one person.
9. Make it unique
Content marketing often feels like Groundhog Day. Everyone repeats the same information in the same way without adding anything new to the discussion. The good news is, this presents you with a golden opportunity to differentiate yourself from your competitors.
Share your opinion. Take a different approach. Give prospects the benefit of your knowledge and experience. On the rare occasion you can't think of a unique hook, consider how you can improve on the content that's already out there. Expand the conversation or provide new insights that add value to prospective customers.
10. Focus on readability and structure
You should also pay careful attention to structure. Some people prefer to scan content rather than read it from top to bottom. Think about how you can use lists, sub-headers, line breaks, and bold/italicised text to make your content easy to scan. Your audience will thank you.
Sources:
https://blog.parse.ly/content-marketing-tips/
https://www.exults.com/blog/content-marketing/
https://www.blendb2b.com/blog/content-marketing-tips
Content marketing tips
Within a business, content marketing can be used by many departments, including marketing, sales, product, and customer success team. It can even be used to raise funds or position your business as a industry leader.
3. Use the principles of the content marketing funnel
The buyer's journey consists of three stages: awareness, consideration, and conversion. In light of this, there are three types of content you can create to help move buyers through the different stages together.
Top of The Funnel (TOFU) – Awareness
This type of content is geared towards generating brand awareness, getting the word about your product and business. At this point, your content is aimed at people who have a generic problem and are looking for solutions/resources.
Middle of The Funnel (MOFU) – Consideration
At this point, your content is aimed at an audience that is pain-aware and actively seeking solutions. This type of content positions your product as one of the potential solutions to be considered. Your goal is to generate interest and trigger consideration from your leads.
For example, someone is looking for ways to improve their web traffic and finds your article entitled, "How to Find Keywords With Traffic Potential." In the article, they learn about how they can do it using your software.
Bottom of The Funnel (BOFU) – Conversion
Here, your content aims to help the prospect make the purchasing decision. Usually, prospects at this stage of the buyer's journey explore several solutions like yours but struggle to decide. So your goal is to convince them that your software is the best.
For example, someone is looking for alternatives to Hubspot and comes across your article entitled, "7 Best Hubspot Alternatives." In this article, you place your software at the top of the list and write about all the features that make you a better alternative.
6. Use video content as part of your content marketing strategy
Collaborating with other players in your industry is called collaborative marketing. It can help widen your content's reach and provide authenticity to your brand. You can easily increase brand awareness, gain new customers and leads, and drive more conversions and revenue.
Databox is one of the companies that find success with this strategy. They bring out like-minded marketers from different companies (with whom they can work effectively) to share their views and tips on achieving something specific the audience pool cares about. Here is an article exemplifying this.
7 Steps to Creating a Complete Content Strategy
Long-term planning allows you to anticipate challenges and allocate resources effectively. Laying out these seven steps will help you develop and implement a content strategy aligned with your marketing and business goals.
As mentioned earlier, you must document your plan. This could be a slide deck, a Google document, a spreadsheet, or another format that works well for your business model and can be easily shared with all essential stakeholders.
Step 1: Determine Your Audience and the Story You Want to Tell with Your Content
While your buyer personas will form the base for your content strategy, your audience isn't solely made up of buyers. Audiences include people who begin interacting with your brand long before they intend to make a purchase.
Besides, becoming a valuable source of information can help you build a community of brand advocates who will spread the word and strengthen your thought leadership. We sometimes call these people "reader personas", highlighting that it's all about delivering value to your audiences vs. pushing your products or services.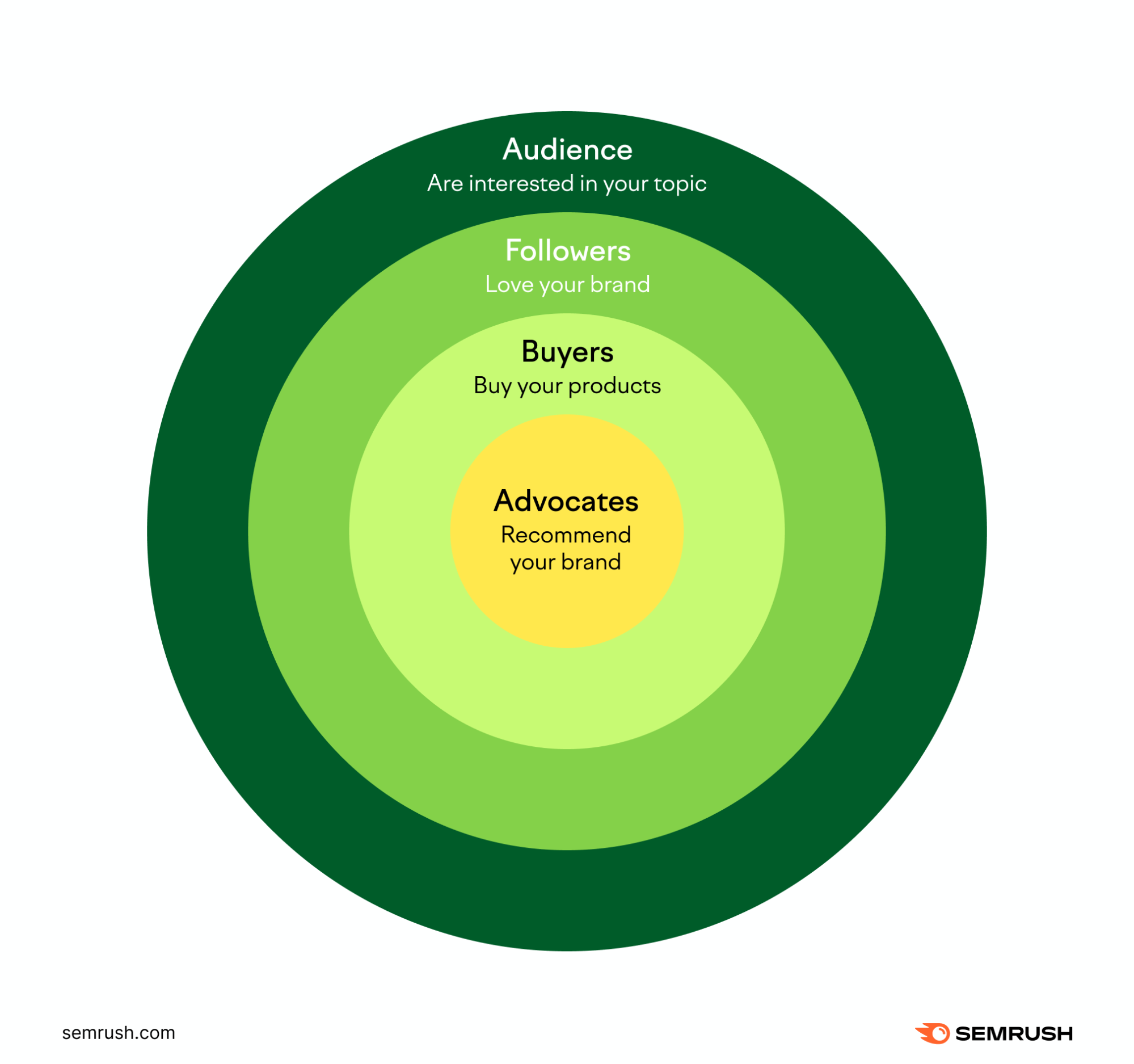 Red Bull is an excellent example of a brand that creates content for audiences, not buyers. Red Bull's owned media doesn't focus on its product; it covers topics the audience is interested in, like extreme sports and once-in-a-lifetime experiences. You can easily identify the target audience—young and adventurous people, passionate about sport and an active lifestyle.
Red Bull showcases the importance of integrating your brand story into every content piece and every message sent to your audience. Remember about your mission, where you stand, and why you are sharing content in the first place. Creating this unique voice and character can help you stand out in the age of "content shock."
The Empathy Map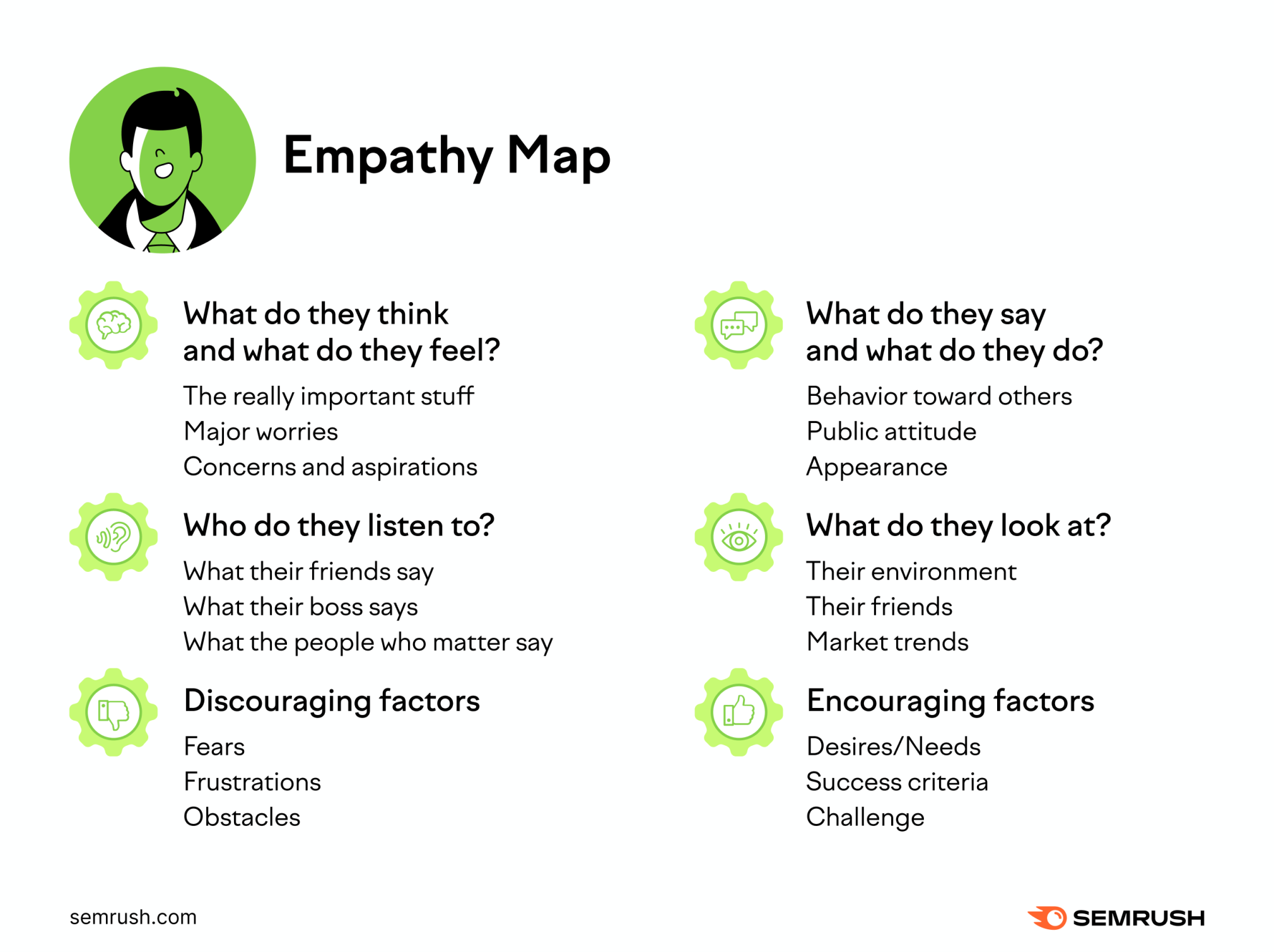 The "Jobs to Be Done" Framework
For example: When I work, I spend too much time completing all my tasks, that's why I want to find a tool to improve my time management, so I can spend more time with my family.
Once you have an understanding of the prospect's current problem, the solution they need, and the result they envision, you can create compelling content that can transform them from newcomers into your brand advocates.
Step 2: Analyze Historical Content Performance and Establish Your Content Marketing Goals
Such metrics might be primary: e.g., revenue generated by content marketing or organic traffic and the number of leads. Others might be secondary: e.g., organic traffic, ranking, and shares.
Remember that we all live in a world of limited resources. Your goals and plans are closely tied to the available budget and capacity of your team. So, make sure to take this into account when setting your targets.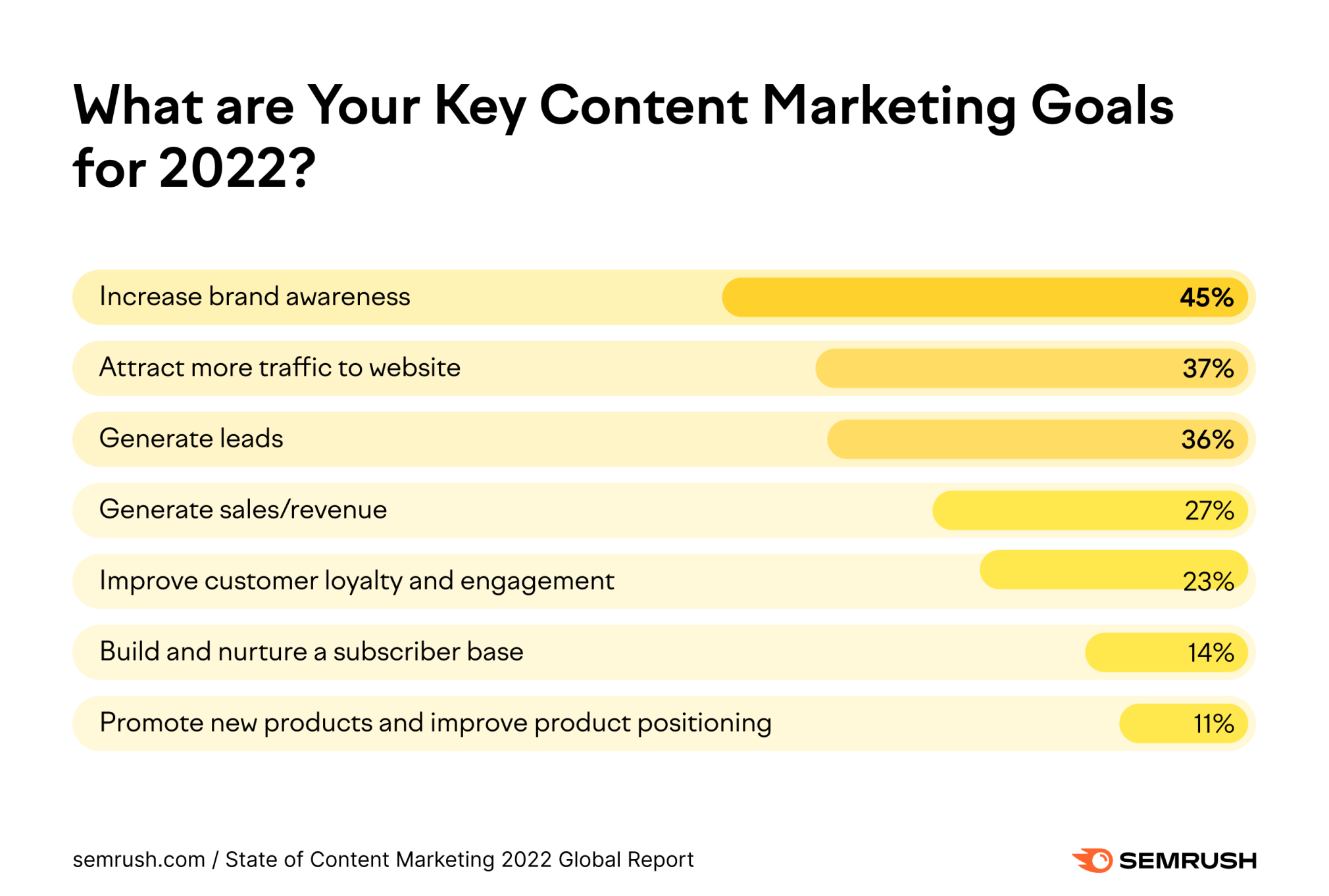 But we encourage you to always look at the bigger picture and see content marketing as an integral part of your overall marketing strategy. An example of an overarching goal could be: "In 2022, we want to achieve a 20% increase in revenue created by organic content and generate 15,000 MQLs with a budget of $30,000."
Pro tip: Take the buyer's journey into account when setting your content strategy goals. For example, in B2B, the sales cycle tends to be much longer than in B2C. So, multitouch attribution would be more optimal when analyzing your content performance and defining your KPIs (key performance indicators).
Goal-Setting Frameworks
Let's look at some progressive goal-setting frameworks that can help you at this step. While you may be more comfortable with traditional goal-setting frameworks like SMART (Specific, Measurable, Achievable, Relevant, and Time-Bound) goals, flexibility is key to setting realistic benchmarks. Consider using the framework CLEAR, which can help you become more agile in a fast-changing environment.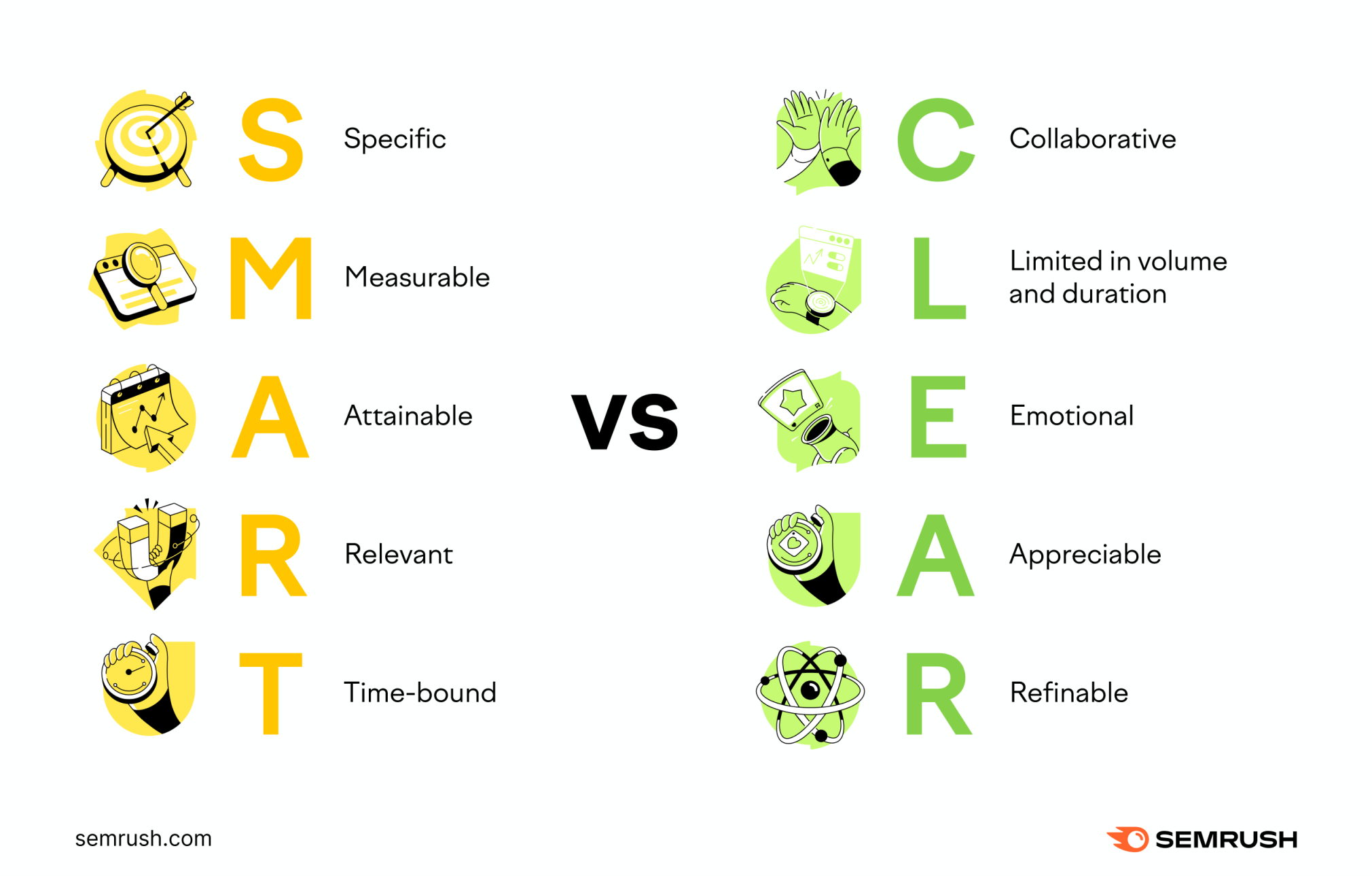 With this approach, you can target an ambitious result, but set a minimum threshold for reaching the goal. Progress indicators (0–100%) allow each team member to see how attainable each goal is and understand what remains to be accomplished.
Create connections with blogging
A blog is a website or webpage which is updated regularly. In a marketing context, blogs are frequently used as a marketing strategy for businesses to reach out to and connect with their target audiences. Blogs can be either separate from the business' e-commerce website or integrated with one another for easy navigation and access.
Whatever you choose, a blog is a great way to interact with your customers on a more personal and intimate basis. Through your blog, you can advertise and promote your products/services and build brand awareness, generate leads, encourage sales and establish a distinctive and recognizable brand image. For example, you could write a blog providing instructions on how to use your product/service, providing clickable links so that your customers can immediately make a purchase or query.
Sources:
https://blog.appsumo.com/content-marketing-tips/
https://www.semrush.com/blog/content-marketing-strategy-guide/
https://www.entrepreneur.com/article/368796